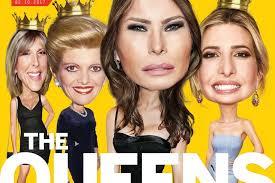 Just a few hours after American voters bitch-slapped feminism on November 8, two women followed Donald Trump onto the stage at his postelection party. Gliding in heels that would challenge a ballerina, first-lady-to-be Melania Trump and first daughter Ivanka Trump were camera-ready at 3:30 a.m. Melania had wriggled into a white, off-the-shoulder Ralph Lauren palazzo pants jumpsuit; Ivanka was wearing one of the ice-skating dresses she favors, a powder-blue Alexander McQueen frock that showed off her long legs. Somewhere out of the frame, two former wives of the president-elect, Ivana Trump and Marla Maples, already had notions of ambassadorships buzzing in their brains like vibrators.
These queens in the House of Trump--all of them having served variously as models, arm candy, reality-show stars, humiliated sidekicks and shopping channel mavens--are vestal virgins in the temple of acquisition. They are significant even for those who don't worship there for what they reveal about the emotional life of the 45th president of the United States and his views on the role of women. During the course of Donald Trump's adult life, a span of 50 years, America became a better, more tolerant nation, and the women's movement was a big reason why. Trump, however, is a living link to another era. His first prenuptial agreement was penned by mob lawyer, Senator Joseph McCarthy acolyte and Richard Nixon ally Roy Cohn. (Former President Barack Obama was in junior high when Cohn wrote it up.) Norman Vincent Peale--evangelist of mid-20th-century self-improvement--presided over his first wedding.
REad the rest at Newsweek here.